Welcome to our Exclusive
Members Clubhouse
section of our website
In this section we aim to be able to provide lots of information on a wide variety of things pertinent to our club members whether you collect Teddy Bears, Dolls, Cherished Teddies or Beanie Kids you will be able to visit this Members Clubhouse area any time you like and catch up on all the latest news and special offers that interest you.
Some of our exclusive limited edition Artist Teddy Bear designs
Nana Bear
asks you to
"Hug your Teddies daily"
The last 6 months newsletters are stored in the monthly news tab, you can catch up on any news items you missed however any special prices, discounts and offers shown in back issues may have expired
With this online system of delivering your newsletters you don't have to wade through all the info on the things that don't interest you and we can provide a lot more of the things that do.
Constant updates and new items will be posted here as I have time to prepare them so check back here often to see what's new.
Plus this members clubhouse section is fully linked to our main online catalogue through the navigation bar at the top of each page so you can go directly to any brand or style of bears that you fancy.
$100 to win every month
You even have the opportunity each month to enter our $100 members lucky draw by simply reading your newsletter and correctly answering this months question.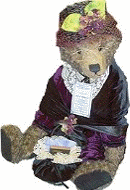 By clicking on the V.I.B tab in the side menu bar you can read our extremely informational special features on some of our
Very Important Bears that we believe have either great historical significance or are potential investments for the future.
These articles have a lot of researched back ground information and are a good read for members wanting to learn a little more about the world of collectable bears.
So why not put the kettle on, make yourself a nice cuppa and enjoy some much deserved relaxation time spending an hour or two with us strolling (or should that be scrolling) through these wonderful pages of teddy news we have compiled here just for you.
We hope you enjoy reading all our monthly teddy newsletters, Special Features and events as much as we enjoy sharing them with you.
Beary best wishes,
Dave, Jan & Troy Robertson.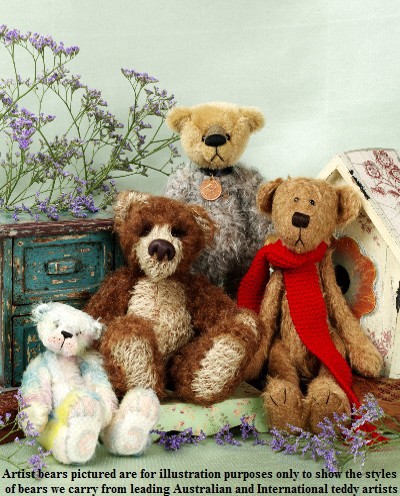 Copyright Nana's Teddies & Toys 2023