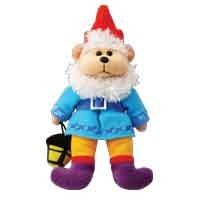 #12143
Available in the Following sizes
20 cm:
$11.95
Available in the Following color
Dressed in Blues
BK – NOBBI THE GNOME BEAR
$11.95
BEANIE KIDS COLLECTABLE.
NOBBI
THE GNOME BEAR.
BK #: BK716
DOB: 22-09-2008
Star sign: VIRGO
Don't be fooled by Nobbi's appearance ,he is actually quite young.
He loves nothing more than to help people that are lost in the forest or glade, and guide them home in the dark.
It is surprising how many are caught out in the dark, as the magical sunsets and stars on the island draw many people.
ADD THIS ITEM TO THE ENQUIRY CART
We will then check stock availability
and reply to you with a postage quote and payment options available
FOR DETAILS ON OUR REFUND & RETURN POLICIES – ORDERING & PAYMENT OPTIONS – CLICK HERE